(Last Updated On: March 16, 2015)
 Satyagraha movie starcast ,budget,releasing
SATYAGRAHA MOVIE RELEASE IN INDIA 2013
Satyagraha movie released in India:
satyagraha movie,today on 30th of august 2013. movie on politics and social media role in the society. satyagraha movie beautifully represent the role of media in helping the common man in getting the rights of country. satyagraha movie is on  common man  who wants his right from government but government head i.e. politicians refuses to help. His son who is engineer and young entrepreneur help his father with help of media and common people support by making huge rallies, strikes, against the politician. Like anna  hazare fight for the corruption in India.
DETAILS OF SATYAGRAHA MOVIES:
PRODUCER: PRAKASH JHA,RONNIE SCREENWALA,SIDHARTH ROY KAPUR
DIRECTOR: PRAKASH JHA
WRITTEN BY: ANJUM RAJABALI,PRAKASH JHA,RUTVIK OZA
ACTORS AND ACTRESSES :AMITABH BACHAN,AJAY DEVGAN,ARJUN RAMPAL,MANOJ BAJPAI,KAREENA KAPUR,AMRITA RAO.
MUSIC ON:T SERIES
BUDGET: 50 CRORES
DISTRIBUTED BY : UTV MOTIONS PICTURES
RELEASING ON: 30th august 2013 in india,29th of august in U A E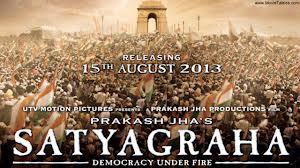 STATUS OF MOVIE:
Movie has running time of 153 minutes. People viewing in the thousands of theaters of India and u a e. PRAKASH JHA is giving special appearance in this movie. Movie has budget of 50 crores. movie team completed their promotions in overall news channel and drams channels of media.