(Last Updated On: July 31, 2015)
Record Rain By Rohit Sharma, Smashed 264 in 173 Balls:-
Are u Shocked!! Yes This is true.Record Rain By Rohit Sharma is done in 4th ODI match against Sri Lanka.Opener batsman Rohit Sharma smashed 264 runs in 173 balls.During this he hits 33 fours and 9 sixes.this Record Rain By Rohit Sharma storms many records in his pocket.Rohit sharma become the first Cricketer to hit maximum runs in a ODI match.Record Rain By Rohit Sharma also give him a record of smashing double century twice in ODI.He had played a inning of 209 Runs against Australia in 2 November 2013.Runs in This historic Record Rain By Rohit Sharma were made as :-

50 runs in 72 ball   ( 5 fours)
100 runs in 100 ball  (12 fours ,1 six)
150 runs in 125 balls  (19 fours ,3 sixes)
200 runs in 151 balls  (25 fours ,5 sixes)
250 runs in 166 ball   (32 fours, 8 sixes)
By This exclusive Record Rain By Rohit Sharma hitting 264 runs ,India leads on India-shri lanka series  with 4-0.He was out of team due to pain for 10 weeks.But after returns  Record Rain By Rohit Sharma,he once again proofs  himself as present future of indian cricket team.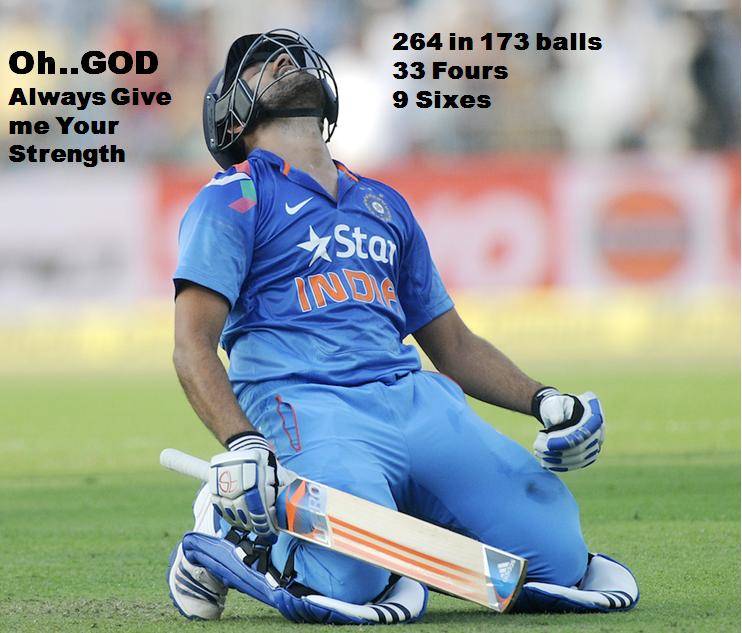 Amazing Fact About This Record Rain By Rohit Sharma:-
This Record Rain By Rohit Sharma not just include runs an records But some amazing facts also.One of Which is Three time when Indian player Sachin Tendulakar, Virender Sehwag and Rohit Sharma hit 200 India team win match with 153 runs.
Player                                        Agianst                   Runs                        Date                                Winning
Sachin Tendulakar                 South Africa              200*                24 feb. 2010             India wins by 153 runs
Virendra Sehwag                    West Indies                219                    8 Dec. 2011              India wins by 153 runs
Rohit Sharma                          Sri Lanka                     264                  13 Nov. 2014            India wins by 153 runs
Words By Others On Record Rain By Rohit Sharma:-
Many Old-New Crickets and other personalities has spoken on this Record Rain By Rohit Sharma. Some of them are
 

Congrats for come back in cricket, grab more records for u.Congrats for ultimate inning.
-Irfan Pathan ,Indian cricketer
This Record will remain for very long time,Feeling happy watching inning.Congrats for record.
-Harbhajan Singh,Indian Cricketer
There is Consistency in this cricketer, making 264  in 173 ball is amazing.What a Rohit !
-Sanjay Manjekar,Past Indian Cricketer
Congrats for This Record Inning,We are  proud of on this inning.
-Arvind Kejriwal,Politician
Very Good Rohit, Amazing,keep moving forward like this.Wonderful.
S. Shri Santh,Indian Cricketer
First tar-gate for Sri Lanka was 265 runs and after it 405 runs. Wonderful rohit.
Anil Kumble ,Past Indian Cricketer
"Rohit Played Very well,yes this is Rohit,name of the Pure Talent .Keep watching & enjoying level of his bating
Indian Captain Mahendra Singh Dhoni
Rohit Sharma is Second Greatest Performer After God Ram for Shri lankans .
Ravindra Jadeja,Indian Cricketer
This Record Rain By Rohit Sharma takes India very near to the clean sweep of series.In this Match Kulkarni takes 4 wickets stopping Shri Lanka at 251 runs.