(Last Updated On: March 8, 2015)
MYSTERY OF VIOLENCE-NONVIOLENCE OF YOUTH
hello ! keyshone readers welcome to the keyshone the world of great and interesting knowledge of life happenings. As i commit this blog is meant for all knowledge of life happenings. Whenever we open the newspaper,television,national magazine we found the news,views,data of various current internal wars,civil wars, national wars,riots, and political affairs. This  most specially youth are included in the violence cases.all knowledge shivered the mind and soul. Different individual has different ways of thinking's. This all violence activities struck our mind and arise various questions in our mind whether we should take the revenge, whether we should make compromises,whether we should follow ideals of mahatma gandhi, lord buddha,jesus christ. …..
The mystery of violence-nonviolence of youth:
keyshone going to clarify your doubts that violence is good or non violence is right. Keyshone search a lot in ancient scriptures the mystery of violence-non violence. Keyshone is providing you reasons and regulations for violence and non violence.
REASONS FOR VIOLENCE :
why we should accept violence?
1. First reason of violence is destruction of nation integration and sovereign
2. When rivals attack on you.
3.when anyone wants to destroy your culture and religion.
4. When anyone disgrace and deteroit your mother,sister,daughter character and respect.
5. When anyone exploit the weak and illiterate person for selfish means.
6. When you found no way instead of violence.
REASONS OF NON VIOLENCE :
reasons we should accept non violence is following
1. When any dispute and quarrel occurs in your house.
2. When any weak and illiterate person fight with you for his/her rights.
3. When any poor person wants to fight with you for his/ her facilities and benefits.
4. When anyone do grapevine on your designation and position.
5. When your rights are endangered by public commissions or authorities.
6. When you are weak and low designated person.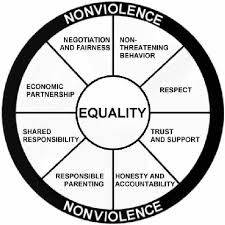 CONCLUSION :
Keyshone says that non violence is adorable doctrine but our saints and aadhyatmm guru's said that non violence is not nation principle, state principle,defence principle when rivals and dacoits attacks on country, state, thiefs loot provinces and wealth and we standing still keeping hands on hand following the non violence. This is not principle and respect of nation integrity.our scriptures salutes to the people who fight for nation integrity,religion, rights. Like guru govind singh (sikhism), Maharana pratap, legend shivaji, rani luxmi bai, bhagat singh, chander sekhar azad, rajguru, in now days our defence forces. Happy aadhyatmm! Meet you soon with new interesting stuffs.