(Last Updated On: December 19, 2013)
LOKPAL BILL INTRODUCTION: Lokpal bill was the bill which consist of some rules amendments and formation for making the anti-corruption society in India. Lokpal bill is the bill which is opted in option of  JAN LOKPAL BILL. Lokpal bill was first introduced by the Adv. Shanti Bhushan in 1968 and after delays by political parties this is passed on 18 December 2013 finally. Lokpal bill was passed by Rajya sabha on 17th December 2013 and Lok sabha on 18th December 2013. Lok pal bill in short is going to stop the corruption in India 40-50% by social activist Anna Hazare. Lokpal bill is not so powerful but it's going to suppress some extent of corruption in India. Know how Lokpal bill is going to limit the corruption in India? what are the features of Lokpal bill? who are selected for the drafting committee of Lokpal bill ? All the answers are revealed here:-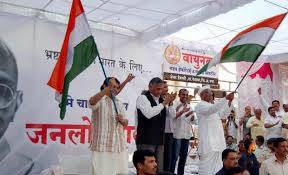 LOKPAL BILL DRAFTING COMMITTEE : Drafting committee of the Lokpal bill consist of following members for the amendments and formation of special rules under Lokpal bill to control the corruption in India. This drafting committee was organised in 8 APRIL 2011. The selected 10 members of Lokpal bill were :-
P.CHIDAMBRAM posted in Indian Government as finance minister.
SHANTI BHUSHAN was former minister of law and justice.
SHUSHIL KUMAR SHINDE elected as minister of home affairs.
VIRAPPA MOILE posted as minister of corporate affairs.
SALMAN KHURSHID working as minister of law.
KAPIL SIBAL posted as minister of human resource development.
ANNA HAZARE who is social activist.
PRASHANT BHUSHAN who is lawyer.
N. SANTOSH HEGDE who was judge in supreme court.
ARVIND KEJRIWAL who is social activist and chief of AAM AADMI PARTY.
LOKPAL BILL KEY FEATURES: Lokpal bill has following key features which is focused mostly.This bill contain following features which is less powerful than the JAN LOKPAL BILL.This bill is going to reduce some extent of corruption in India due to following features:-
To establish a central government anti-corruption institution called Lokpal, helped by LOKAYUKT at the state level.
As is the case with the Supreme court of India and Cabinet secretariat , the Lokpal will be supervised by the Cabinet secretary and the Election commission. As a result, it will be completely independent of the government and free from ministerial influence in its investigations.
Members will be appointed by judges, Indian Administrative Services officers with a clean record, private citizens and constitutional authorities through a transparent and participatory process.
A selection committee will invite short-listed candidates for interviews, the video recordings of which will thereafter be made public.
Every month on its website, the Lokayukta will publish a list of cases dealt with, brief details of each, their outcome and any action taken or proposed. It will also publish lists of all cases received by the Lokayukta during the previous month, cases dealt with and those which are pending.
Inquiry has to be completed within 60 days and investigation to be completed within six months. Lokpal shall order an investigation only after hearing the public servant.
Losses to the government by a corrupt individual will be recovered at the time of conviction.
Government office-work required by a citizen that is not completed within a prescribed time period will result in Lokpal imposing financial penalties on those responsible, which will then be given as compensation to the complainant.
Complaints against any officer of Lokpal will be investigated and completed within one month and, if found to be substantive, will result in the officer being dismissed within two months.
10. The existing anti-corruption agencies [CVC], departmental vigilance and the anti-corruption branch of the [CBI] will be merged into Lokpal which will have complete power authority to independently investigate and prosecute any officer, judge or politician.
11. WHISTLE BLOWERS (activist who inform and complaint against the corrupt official, who alert the agency to potential corruption cases will also be provided with protection by it.
ANNA HAZARE OPINION: Anna hazare is happy with this bill passing. He thanked the all political parties who supported the Lokpal bill and added " I know this lokpal bill will not eradicate the 100% corruption but it will work 40% to 50%. I will stand and run campaign against the government to make it more strong". After speaking this word Anna hazare( old man social activist) releived from week fast. 18th December 2013 is historical day in Indian constitution bill for Lokpal bill.